Jonathan Greenblatt, Keynote Speaker at Breakfast on April 4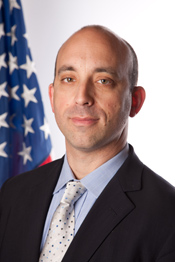 White House staff member Jonathan Greenblatt is the Special Assistant to the President and Director of the Office of Social Innovation and Civic Participation in the Domestic Policy Council. In this role, he is leading the Office's efforts to leverage human capital and financial capital to elevate community solutions. This portfolio includes issues such as national service, civic engagement, impact investing, and social enterprise.

Before joining the White House, Jonathan founded the Impact Economy Initiative at the Aspen Institute, a program focused on the nexus of public policy and impact investing. He served as an operating partner at Satori Capital, a private equity firm focused on conscious capitalism, and was an active angel investor. He also served as a member of the faculty at the Anderson School of Management at UCLA where he developed and taught its coursework on social entrepreneurship.

Jonathan has been described as a serial social entrepreneur. Among his accomplishments, Jonathan co-founded Ethos Brands, the business that launched Ethos Water, the premium bottled water that helps children around the world get clean water. In 2005, Starbucks Coffee Company acquired Ethos Water, making it one of only a handful of non-coffee businesses the company has purchased in its 40 year history. Following the acquisition, Jonathan served as Starbucks Vice President of Global Consumer Products, scaling Ethos across the US. Greenblatt also co-founded Ethos International and served on the board of directors of the Starbucks Foundation where he developed Ethos' global investment strategy that has invested millions of dollars to bring clean water to communities in need around the world, including Bangladesh, the Democratic Republic of Congo, Ethiopia, Honduras, India and Kenya.

Jonathan also founded All for Good (AFG), the open source platform developed to enable more Americans to serve. AFG is the largest aggregation of volunteer opportunities on the web and is supported by a coalition of leading companies, nonprofits and government agencies, all of whom shared a vision of using open data to increase the number of Americans that participate in service and volunteerism. In 2011, AFG was acquired by the Points of Light Institute.

Jonathan also formerly served as CEO of GOOD Worldwide. He led its transition from a publishing company to a diversified media company. Its products include the popular website GOOD.Is and the award-winning GOOD Magazine.

In addition to these operating roles, Jonathan has been an active board member of numerous businesses and nonprofit organizations. He also served as an aide in the Clinton White House and the Department of Commerce where he developed international economic policy with a focus on emerging markets and post-conflict economies. Before joining the Clinton Administration, Greenblatt worked in Little Rock, Arkansas on Gov. Bill Clinton's first successful Presidential campaign in 1992.

Greenblatt earned an MBA at the Kellogg Graduate School of Management at Northwestern University and graduated cum laude with a BA from Tufts University. He is a Henry Crown Fellow of the Aspen Institute and a Next Generation Fellow of the American Assembly.